It's late January, but hopefully not too late for a look back at 2009!
Starting at the beginning of 2009 our 6th casual downloadable game - Shop-N-Spree was released and it was a great success reaching No.2 on Big Fish Games top sales charts. It was our first game which we worked directly with Big Fish Games on and they were a great pleasure to work with. We're extremely proud of how the game turned out and the response from players :)
Shortly after the release of Shop-N-Spree I gave an interview with Roman Budzowski of ANAWIKI Games about its development and about Viqua Games in general, which you can read here.
We were supposed to release more games in 2009, but due to many things we weren't able to. But 2009 was still a great year for us because later in the year some cool things happenned :)
First, during fall 2009, we had First Class Flurry retail published by eGames. This was very exciting for us as it was the first time a game completely designed and developed by Viqua Games was available to buy in US in a fancy retail box :) Here's a pic of the box: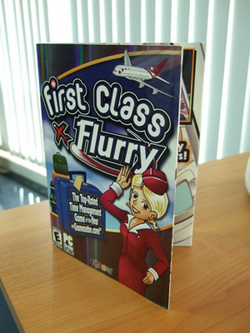 We also expanded our team to 10 people and moved to a new larger, more spacy office.
What all this means is that we've got lots of projects in development near completion to be released in 2010. It should be a very busy and exciting year for Viqua Games!
Please stay tuned by following our Facebook page. You can also now follow us on Twitter :)